ODK
Omicron Delta Kappa, the National Leadership Honor Society, was founded on December 3, 1914 at Washington and Lee University, Lexington, Virginia. The Society recognizes and encourages superior scholarship, leadership and exemplary character.
Emphasis is placed on the development of the whole person as a member of the college community and as a contributor to a better society. Omicron Delta Kappa promotes the idea that leadership of exceptional quality and versatility in college should be recognized, that representatives in all college life should cooperate in a worthwhile endeavor, and that outstanding students, faculty and administrators should meet on a basis of mutual interest.
ODK was the first college honor society of a national scope to give recognition and honor for meritorious leadership in the five areas of:
Scholarship
Athletics
Campus/Community Service, Social/Religious Activities & Campus Government
Journalism, Speech and the Mass Media and
Creative and Performing Arts.
In the United States there are over 269 circles of Omicron Delta Kappa. Members include Arnold Palmer, Robert F. Kennedy, Jr., Bob Hope, Jonas E. Salk, Walter Cronkite, and numerous U.S. Presidents including Franklin D. Roosevelt, Jimmy Carter, and George Bush as well as members of the U.S. Congress.
Membership in the Omicron Delta Kappa Society is regarded as one of the highest collegiate honors to be awarded to an individual.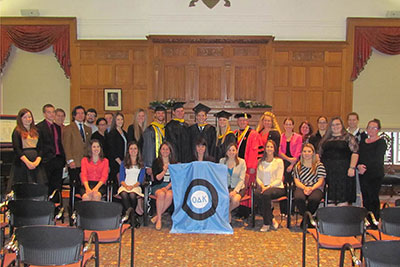 Past & Current Membership